CodeScribe
A code generation tool, which connects to a database, loads up a template, and uses data type driven code-snippets to piece together completed (or nearly completed) programs, text files, and ReportScribe Reports with a minimum number of clicks and edits. It is not required to use ReportScribe, but it can be a valuable tool-set in your Rapid Report Development workflow, or on its own to assist making data-driven programs and script development faster as well!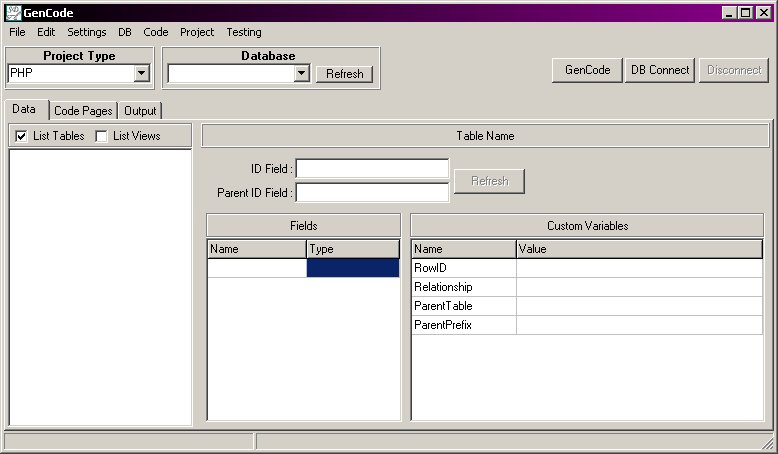 Written by Programmers, for Programmers
CodeScribe was originally called CodeGen, as in Code Generator, in 2003 as a way to make the process of developing web pages and MSSQL stored procedures easier to make based on new tables and fields added to the database. It is great for situations when the structure of your code is consistant and simply changes based on your data source, such as for insert/update procedures, edit pages, search pages and reports.
Updated for ReportScribe
As a stand alone tool, CodeScribe is still pretty useful for a wide variety of projects. However, if you connect it to a ReportScribe database it becomes a report writing powerhouse which opens the doors up to customizing your reports and FusionCharts easily with pre-configured CodeSnippits and ReplaceStrings.
What are CodeSnippits?
CodeSnippits and CodeFilters are the small pieces of code which are specific to a field type. So, if you have a 10 character string as your field type, you may want that to be displayed in your code as an input field:
<th>#CurDisplayNc:</th>\p<td><%=ShowInput("#CurFieldNc",#CurFieldNc,"12","10","0")%></td>\p
but maybe this particular field is actually a custom type for your project, such as gender:
<th>#CurDisplayNc:</th>\p<td><%=ShowRadioList("#CurFieldNc",#CurFieldNc,GenderArray1,GenderArray2," ","")%></td>\p
. CodeSnippits and CodeFilters are based on a database or custom type, and are made up of strings with specific #Text which is replaced at runtime with information from the database field or table.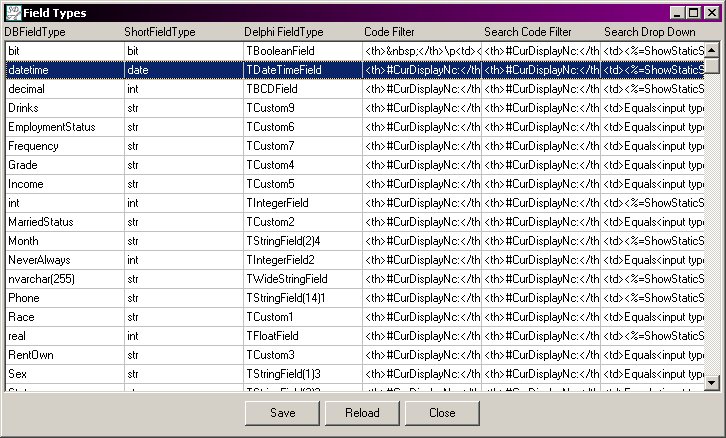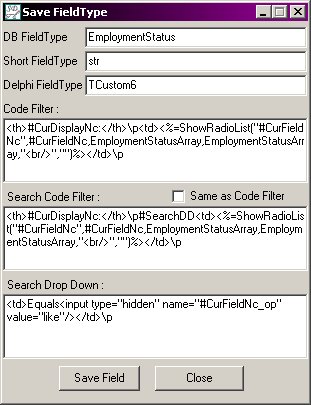 What are ReplaceStrings?
While CodeSnippits are based on looking at the information one field at a time, ReplaceStrings are more like templates for larger blocks of code for your scripts. They may be something as simple as a list of all the database fields
#CurFields
or dynamically creating an update statement:
#CurFieldNc = #IsSQL" & #StrToBitOpen#CurFieldNc#StrToBitClose & "#IsSQL#Comma
. Within your template, you just place the name of the replace string as an html style comment: and it will be replaced at run-time with your dynamic code.
Wait, do I need to know all that?
We will start you off with Project Type Templates, which have all of the CodeSnippits and ReplaceStrings you may need for a variety of projects, such as reports for ReportScribe. However, all CodeSnippits and ReplaceStrings are editable per Project Type, and you can create new Project Types. So while you don't need to make changes while using a provided Project Type, CodeScribe is a much more powerful tool if you know how to.
Once Configured, CodeScribe is a Wizard
When talking about software, a Wizard is a guide that sets you up with a series of boxes that ask you what you want, and provide that solution for you at the end. That is really all CodeScribe is, a big cuddly configurable Wizard. The first question you need to answer is "What Database do you want to connect to?" then "What Table/View?", then you edit that list as desired, then "What Template" such as a ReportHub or a Report, or an Edit Page, then you press the "Generate" button and you've got the code you need! You don't even have to be a Programmer to generate programs with CodeScribe! Give it a try today!